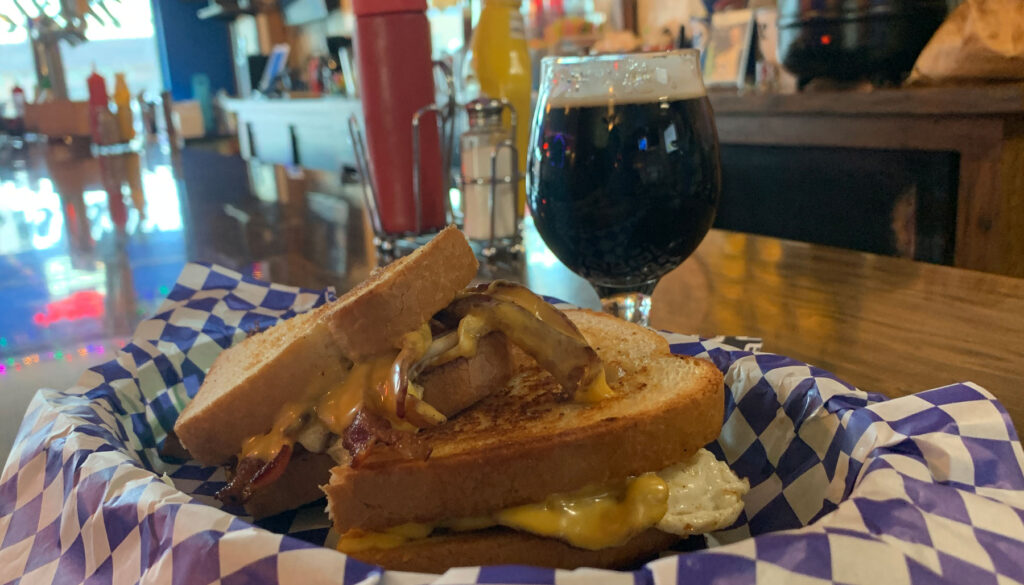 MENU
BURGERS
All our burgers are served on a lightly buttered and toasted bun accompanied by pickles and your choice of Pub Fries or Tater Tots. Our beef burgers are 1/3 lb. handmade daily with fresh ground beef. (Cottage cheese or coleslaw can be substituted)
The Burger
For those who enjoy an old-fashioned burger without all of the trimmings
$8.5
Cheese Burger
Your choice of American, Pepper Jack or cheddar
$9
Bacon Cheese BurgeR
Your favorite cheese burger topped with bacon
$9.5
Southwest Burger
Topped with cheddar cheese, bacon & BBQ sauce
$9.5
The name says it all! Topped with 2 slices of Pepper Jack cheese, jalapeños and our spicy dippin' sauce. Truly a house favorite!
$10
California Burger
An old-fashioned burger with all the trimmings, lettuce, tomato and mayo
$9
Breakfast BurgeR
Bacon, a fried egg and your choice of cheese tops this delicious burger
$10
Fresh sautéed mushrooms with Swiss cheese… yum!
$9.5
Crisp bacon with chunky blue cheese… this will become your favorite!
$9.5
Dick's "Steak" Sandwich
This burger came with the building! Served on toast with chopped raw onions.
$8.5
A delicious vegetarian burger, topped with lettuce and tomato
$8.5
Turkey Burger
Not in the mood for beef? Try our all white meat turkey patty.
$9.5
Add an extra patty for $2 Turkey $3
Additional toppings .50¢
Onion rings or Waffle fries can be substituted for an additional $1
SANDWICHES
Pork Tenderloin
8 oz. breaded and fried on white or wheat toast
$8
Chicken Breast
Crispy or grilled breast on a toasted bun
$6
Crispy Fish
Battered fish (cod) on a toasted bun with tartar sauce
$6
BLT
An old favorite on white or wheat toast
$6
Grilled Cheese
4 pieces of American, Pepper Jack, Cheddar or Swiss on white or wheat toast
$5
Classic fried egg sandwich – 2 eggs cooked your way topped with bacon on white or wheat toast
$5
Hot Dogs
Old-fashioned skin-on.
$3
BASKETS
Chicken Strips three (3)
$8
CHICKEN STRIPS FIVE (5)
$9.5
SALADS
Crisp lettuce, onions, tomatoes and cheese. Dressing: Ranch, Blue Cheese, French, Italian, Thousand Island
$4 small /$6 large
Add bacon .50$
Add grilled or crispy chicken $2.5
KIDS MENU
Grilled Cheese Sandwich
$5
Kids meals come with your choice of fries or tots